Research
NMSU Arthropod Museum specimens and resources are regularly used in studies on insect systematics, and the Museum is also a repository for voucher specimens used in scientific studies on insect biology, taxonomy, and morphology.
The Arthropod Museum provides limited facilities and workspace for research systematists, taxonomists, ecologists, and educators to conduct research and education activities oriented towards Southwest arthropods. Voucher specimen and reference specimen research collections are primarily limited to Southwest region, but NMSU researchers may also maintain research collections for projects outside of the region. However, the Museum does not routinely accession specimen from outside of Southwest region. The collections also provide expert arthropod personnel for education and research contracts for the university community, and for outside public organization.
Accession and deaccession policies are developing under and are expected to mirror those of other regional university collections. The museum policy on collecting permits in place since 1993 is that all appropriate permits must be obtained for collection on federal, state or other lands requiring a permit.
Specimens may be loaned to qualified researchers for a period no longer than three years. To arrange for a loan of material contact Dr. Scott Bundy or fill out our loan request form.
Publications citing the use of NMSU Arthropod Museum specimens or the use of the Museum as a repository for voucher specimens
Published Manuals: New Mexico Grasshopper Manual
Resources: Microscopes, pictures, library of books and reprints, slide collection
Teaching
The museum has a collection of approximately 5,000 teaching specimens used by students taking entomology and insect taxonomy courses. Students taking these courses examine specimens in the teaching collection to become familiar with insect identification and diagnostic features of different insect families.
Outreach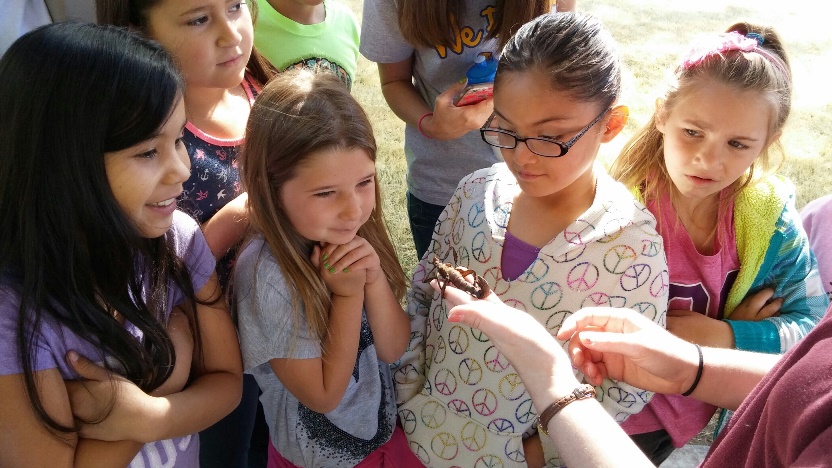 The Museum is actively involved in outreach and we present to several thousand people in the state each year. The Museum has over 2,000 annual visitors, and we provide exhibition materials to state and regional fairs in addition to giving outreach presentations at schools and in the community. We have 50 drawers of insect and arthropod displays that showcase the amazing diversity of the arthropods. Each drawer focuses on a specific theme (Camouflage, Wild and Weird Insects, Mimicry) or group of arthropods (beetles, arachnids, walking sticks). We also maintain a live insect zoo full of local and exotic arthropods that we use in outreach presentations. Our goal in doing outreach in the community is to help people better understand arthropods and to give the public an opportunity to interact with insects in a positive way.
Please see the Outreach tab to learn more and book a visit or a presentation.